Ruth Morgenegg
Ruth Morgenegg has gained her knowledge for rabbits and guinea pigs during the last twenty years. Her experience does not only come from the work at the Rabbit and Rodent Refuge, but also from the help line she runs and her assistance in the veterinary practice.
The amount of animal welfare work has reached an extent that does nott allow her to do the work on her own anymore. Nevertheless, she tirelessly passes her knowledge to others by writing books and giving advice.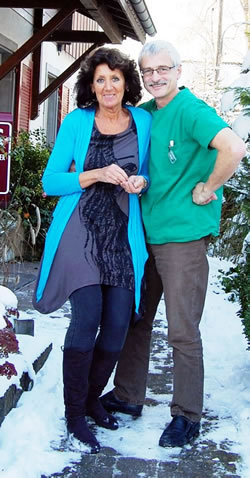 Gottfried Morgenegg
Gottfried Morgenegg is the supervising veterinarian (www.tierarzt-morgenegg.ch). Due to the large number of animals in the Rabbit and Rodent Refuge, he has had a lot of experience with rabbits and guinea pigs as well as with veterinary dentistry.
Rabbit & Rodent Refuge
The RRR is a private institution with three main aims:
To serve as a model: We want to show appropriate animal care, demonstrate it in our refuge and give others the motivation and satisfaction of doing the same for their animals.
Refuge: We home animals which cannot be kept anymore, supply medical care if necessary, apply preventive vaccination and observe the animals to find out which group they would fit into.
Re-homing: We try to place the animals with responible owners. Some need only one animal, a young or an older one that fits into their existing group. Others want a whole group.
Rabbit and Rodent Help Line
This helpline is a pay line which is only available from a fix net telephone in Switzerland. The money gained is for the benefit of the Rabbit and Rodent Refuge.
0900 57 52 31 (CHF 2.13/min.)
Consultion on:
General questions concerning rabbits and rodents
Animal care
Problem situations
Acquiring an animal
Acclimatisation of a new animal
Health questions
Social behaviour
How to construct an appropriate run
The phone service is daily and is very popular. On some days we answer up to sixty calls.